The 411 on complete bikes.
Since all of our frames and bikes are completely custom and the manufacturers and component choices are so varied and numerous, we can build up your bike just about any way you'd like. There are an incredible amount of choices for gearing, wheel and tire sizes, forks, brake types, cockpit components and so on. Designing and building the frame is about fine tuning the fit, so while we're at it, you might as well fine tune the build to give you the level of performance that you want, and to fit within your budget.
Below are some example bike builds to give you an idea of cost and a few of the options, but these are just examples and the parts build for your new ride will be specific to you and your build. Also, be aware that parts pricing can be subject to change and availability.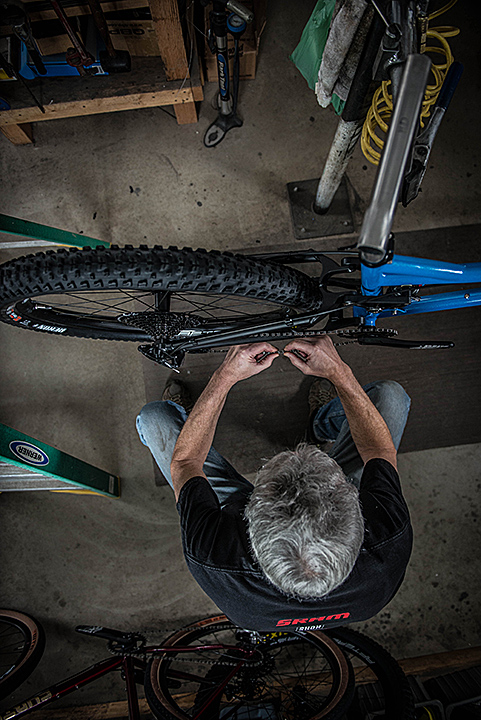 MTB Build Kit w/Fork (examples)
| Component | XT 2x11 | Sram GX Eagle | Sram X01 Eagle | Sram XX1 Eagle |
| --- | --- | --- | --- | --- |
| Fork | Fox 32 Float SC | Rockshox Reba RL | Rockshox SID RL | Rockshox Pike RCT3 |
| Rear Derailleur | XT M8000 | GX Eagle | Sram X01 Eagle | Sram XX1 Eagle |
| Front Derailleur | XT M8000 | n/a | n/a | n/a |
| Headset | Cane Creek 40 | Cane Creek 40 | Cane Creek 40 | Chris King |
| Crank/Bottom Bracket | XT M8000 | GX Eagle DUB | X01 Eagle | XX1 Eagle |
| Brakeset | XT Hydraulic | Sram Guide R | Sram Guide RS | Sram Guide Ultimate |
| Shifters | XT M8000 | GX Eagle | Sram X01 Eagle | Sram XX1 Eagle |
| Cassette | XT M8000 | GX Eagle | Sram X01 Eagle | Sram XX1 Eagle |
| Chain | XT M8000 | GX Eagle | Sram X01 Eagle | Sram XX1 Eagle |
| Handlebar | FSA SLK Carbon | FSA Afterburner | FSA SLK Carbon | FSA SLK Carbon |
| Stem | FSA Energy | FSA Afterburner | FSA Energy | FSA Energy |
| Tires | WTB Trailboss | WTB Trailboss | WTB Trailboss | WTB Trailboss |
| Wheelset | FSA Afterburner | FSA NS | FSA Afterburner | Stan's Valor Team |
| Seatpost | FSA Flowtron Dropper | FSA Flowtron Dropper | FSA Flowtron Dropper | FSA Flowtron Dropper |
| Saddle | Chromag Trailmaster | Chromag Lynx DT | Chromag Lynx DT | Chromag Trailmaster |
| Tape/Grip | Ergon GP1 | Ergon GP1 | Ergon GP1 | Ergon GE1 Evo |
| PRICE | $2,283 | $1,944 | $2,785 | $3,866 |
Road and Gravel Build Kit w/Fork (examples)
| Component | 105 R7000 Hydraulic | Ultegra Hydraulic | Ultegra Di2 | Ultegra Gravel | Sram Red eTap | Sram Force Hydraulic | Sram Rival 1 Gravel |
| --- | --- | --- | --- | --- | --- | --- | --- |
| Fork | Enve Road Disc | Enve Road Disc | Enve 2.0 | Whisky No 9 Road | Enve 2.0 | Enve Road Disc | Rodeo Labs Spork 2.0 |
| Rear Derailleur | 105 R7000 | Ultegra R8000 | Ultegra Di2 | Ultegra R8000 | Red eTap | Force 22 | Rival 1 |
| Front Derailleur | 105 R7000 | Ultegra R8000 | Ultegra Di2 | Ultegra R8000 | Red eTap | Force 22 | n/a |
| Headset | Cane Creek 40 | Cane Creek 40 | Chris King | Cane Creek 40 | Chris King | Chris King | Cane Creek 40 |
| Crank/Bottom Bracket | 105 R7000 | Ultegra R8000 | Ultegra | FSA K-Force Modular | Red | Force 22 | GX Eagle Dub |
| Brakeset | 105 R7000 | Ultegra 8070 | Ultegra | Ultegra R8070 | Red | Force 22 Flat Mount Disc | Rival 22 Hydraulic |
| Shifters | 105 R7020 | Ultegra R8020 | Ultegra Di2 | Ultegra R8020 | Red eTap | Force 22 Hydraulic | Rival 22 Hydraulic |
| Cassette | 105 R7000 | Ultegra | Ultegra | Ultegra R8000 | Red | PG-1170 | XG-1175 10-42 |
| Chain | 105 R7000 | Ultegra | Ultegra | Ultegra R8000 | Red | PC-1170 | PC-1130 |
| Handlebar | FSA Energy | FSA Energy | FSA Energy | Whisky No 7 F12 | FSA SLK Carbon | FSA Energy | Whisky No 7 F12 |
| Stem | FSA Energy | FSA Energy | FSA Energy | Whisky No 7 | FSA Energy | FSA Energy | FSA Energy |
| Tires/Tubes | Continental Gatorskin | Continental Gatorskin | Continental Gatorskin | Maxxis Rambler | Continental Gatorskin | Continental Gatorskin | WB Byway 650b x 47 |
| Wheelset | Rolf Hyalite ES Disc | Wh-RS700-C30 | Rolf Elan | FSA AGX | Rolf Elan | Rolf Elan Disc | FSA Afterburner |
| Seatpost | FSA Energy | FSA SLK Carbon | FSA SLK Carbon | Whisky No 7 Carbon | FSA SLK Carbon | FSA SLK Carbon | Whisky No 7 Carbon |
| Saddle | WTB Silverado Race | Selle Italia Flite | Selle Italia Flite | Ergon SMC4 | Selle Italia Flite | Selle Italia Flite | Terry Falcon |
| Tape/Grips | Cinelli Cork | Cinelli Cork | Cinelli Cork | Cinelli Cork | Cinelli Cork | Cinelli Cork | Cinelli Cork |
| PRICE | $2,035 | $2,451 | $2,830 | $2,338 | $3,975 | $2,799 | $2,172 |